Engaging millions
We intend to engage large numbers of people through five different routes:
1. Citizens (e.g. you, me and everyone else... )
2. Civil society (e.g. community and voluntary sector organisations and movements... )
3. Institutions (e.g. business, government, universities, schools... )
4. Cultural influencers (e.g. youTubers, musicians, film-makers, gamers... )
5. Media (e.g. digital platforms, broadcasters, traditional press and social media... )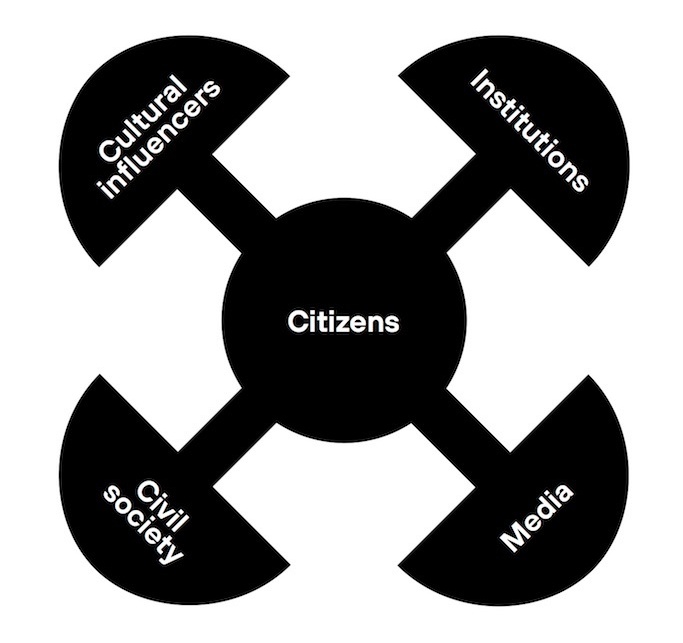 Participants involved through 1000 person lottery-selected mini public and distributed events.
A mini world (1,000 people)
The heart of the GA will be 1000 people, a snapshot of the world's population broken down by gender, race, age and economic background (and other criteria if appropriate) chosen by lottery, similar to how juries are selected in many countries, to ensure people are as reflective as possible of the population.
Local country contexts will determine what is possible in terms of the type of 'lottery' selection. In some cases, it will be done in person (door-to-door and on street recruitment) or over the phone (landline and mobile phone) using existing databases, but some places don't have post-code databases, let alone electoral registers, and mobile phone ownership is only 61% of the world population. The Sortition Foundation, are developing a robust methodology to ensure the sample of people selected are as representative of the global population as possible in terms of gender, age, socio-economic background, geography etc.

We are also giving careful consideration to how we interpret the concept of "the citizen" in a global context. Indeed, the term "citizen" can be exclusionary if we draw a population sample from the boundaries of the nation state. Our methodology is taking the principle of inclusion very seriously, and we will ensure specific groups such as stateless refugees, asylum seekers or migrant workers for instance are included in the sortition selection process.
Distributed events (that anyone can run or join)

Anyone would be able to run their own distributed local assembly processes. This would mirror the 'mini world', using the same resources and process, but it will be self organised by local groups (e.g. community, organisation or school). There would be no expectation that these local events would follow strict citizens' assemblies rules such as stratified sampling of participants or professionally facilitated group deliberation etc. The purpose of the distributed events is to widen participation and allow anyone who wants to take part to be able to do so.
These distributed events could happen online or face to face depending on the local circumstances (i.e. COVID19 restrictions). In order to ensure we understand the makeup of the participants attending the distributed events, we will collect socio-demographic and attitudinal data in order to compare and contrast the outputs from the Core Assembly and the distributed events.
A global body of artists are being brought together to support what will be a wave of artistic interventions, which would engage 100M+ people.
The global assembly is an opportunity to inspire creative responses of all types from people across the world. This will be encouraged in every country and the fruits of people's creativity will be brought together on our global platforms. The aim is not only to use creativity to raise the profile of the global assembly, it is also intended that these creative interventions will encourage people to engage in the assembly, through the distributed events that are being set up. It is through culture that one of the main areas of mass support for the outcomes of the Global Assembly will be achieved.

We are already engaging with leading filmmakers, including two Oscar winners, highly celebrated global musical artists, up and coming pop sensations from Southeast Asia, internationally renowned gallery artists, stars of Nollywood and Bollywood plus photographers, traditional storytellers, poets, authors, coders, sports stars and pioneering hip hop artists. Leading artistic figures who have mass followings are offering to work with us closely in order to produce a wave of artistic creative responses to everything that the prospect of the global assembly presents. Part of this process will be to also encourage creative people and artists at all levels to be producing their own responses too.
The cultural wave is being designed to build a vibrant global non-partisan movement that simply focuses on the assembly, encouraging engagement in it as well as building pressure for the findings from it to be acted upon. Please encourage any of your most loved cultural figures to join us on this world changing journey.

Civil society has initiated the global assembly and will be key to running the distributed 'community' assemblies.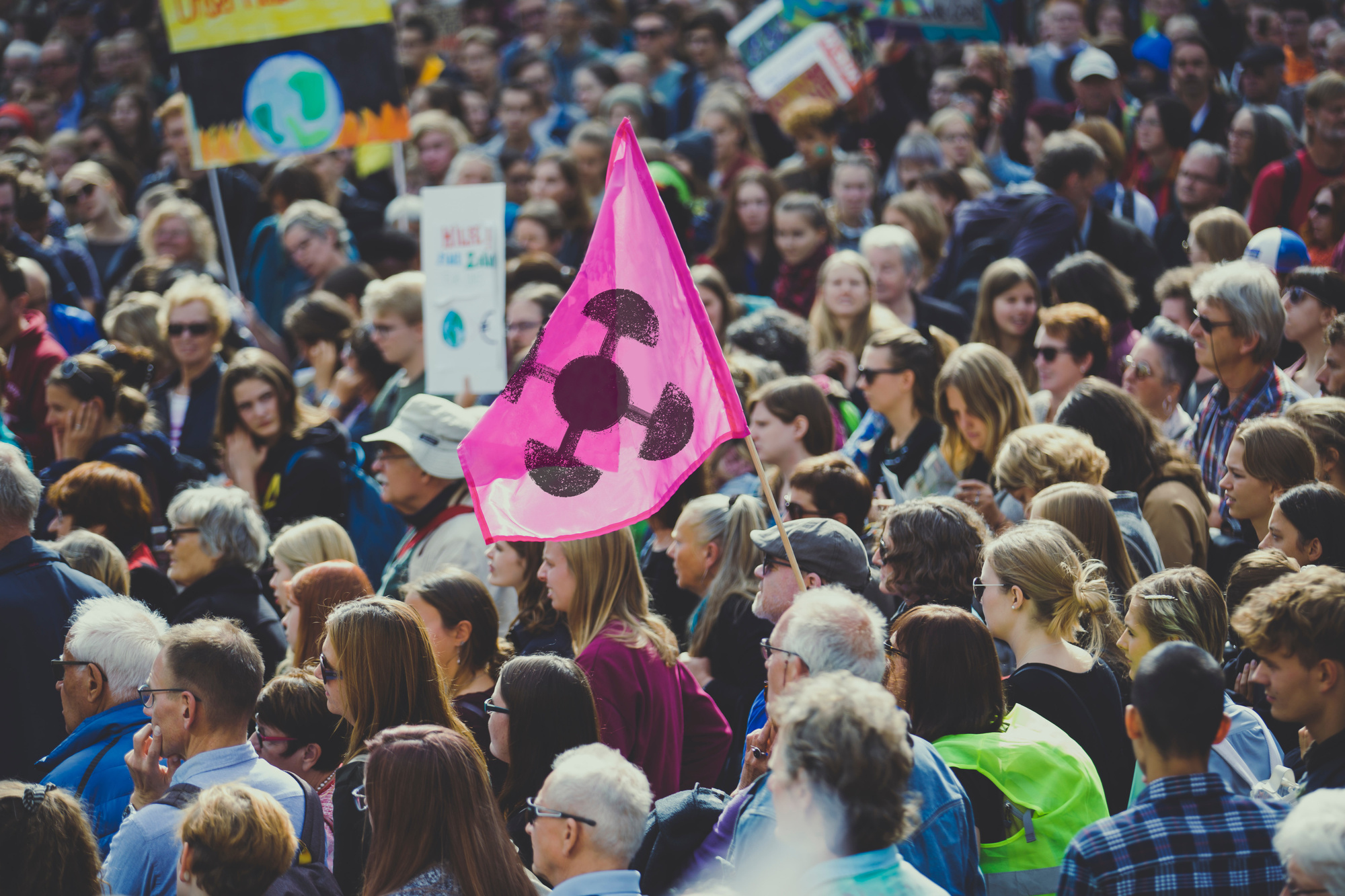 This proposal has been developed with the active participation of many social movements across the globe as they will be key to raising the profile of the process and supporting large numbers of people participating in the global, regional, national and community CAs.
We are working with the UN High Level Champions for COP26, COP 26 hosts (the UK government), UN Secretariat General and UNFCCC, but hope to work with many more institutions.
To develop the Global Assembly, we have been working with the UN High Level Champions for COP26, COP 26 hosts (the UK government), the UNFCCC and the UNSG. We also hope to have an official relationship with the IPCC and many national governments as well as the numerous other institutions and businesses who have a stake in the climate and ecological emergency.

Through the co-design process it has become clear that the citizens contributions will be relevant beyond the official COP26 negotiations; including to the G20 Summit hosted by Italy in 2021 and G7 Summit hosted by the UK and a wider set of global institutions such as the WHO, World Bank, IMF and WTO.
So we will support liaison between the GA and the various other relevant events and audiences.

Institutions will be able to dock with the GA in four ways:
Working with participants at the local and global levels to develop new solutions
Running distributed events in their organisations or communities they work in
Offering a "you said, we will do" response to any outputs
Contributing content to discussions at each of the five stages.
Working with major broadcasters, digital platforms and documentary makers we will bring millions of people into the debate that the global assembly generates.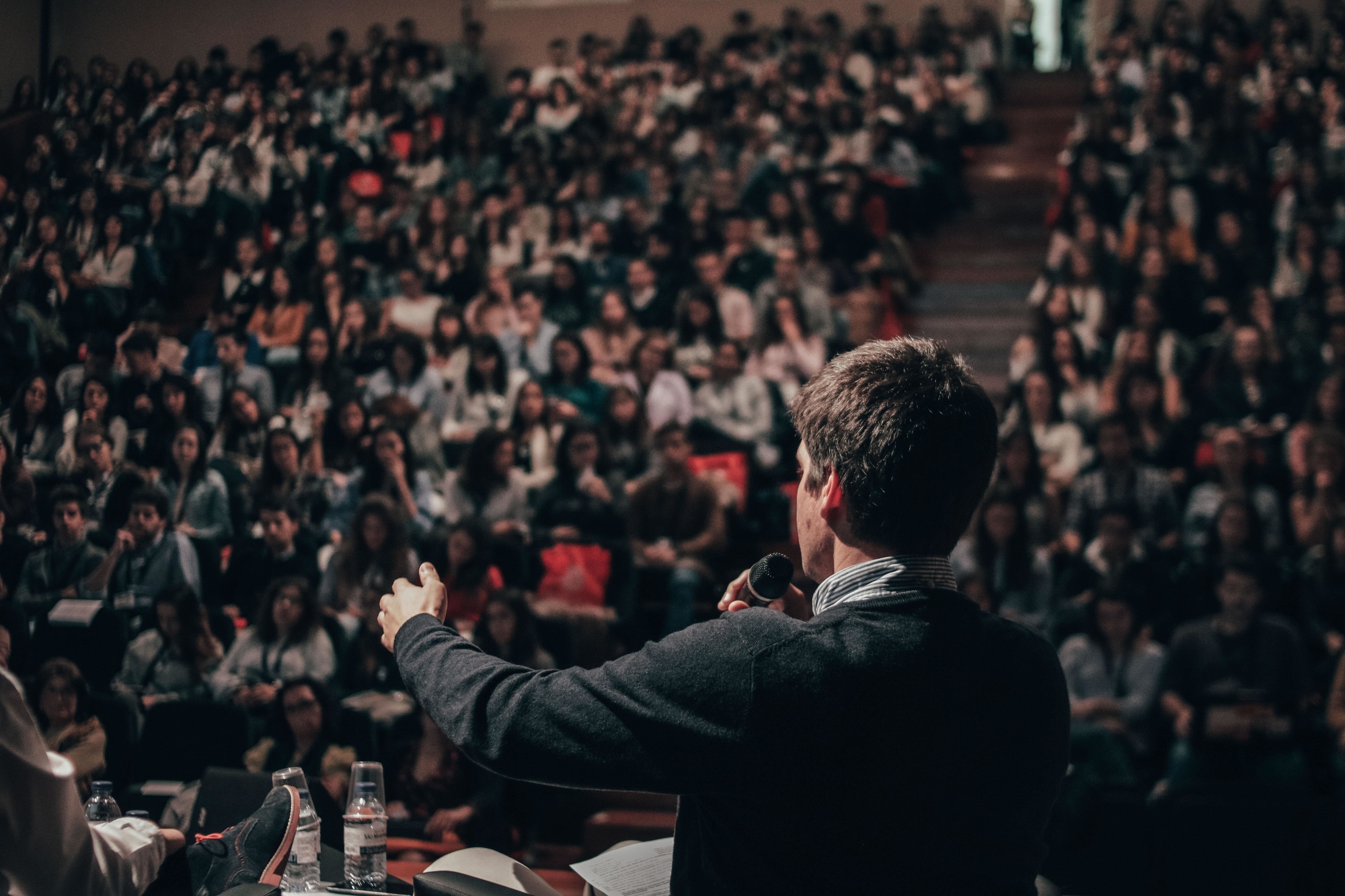 We know that a key factor for whether citizens' assemblies achieve change (especially to policy) is the extent to which they generate wider public debate; and generate interest from large numbers of people in the process who are not directly involved in the process itself. We will therefore work with media organisations to raise the profile of the Global Assembly. We also hope that media organisations themselves will host distributed events across their organisations so their staff can personally engage in the global assembly and consider the roles their industry could take in addressing the climate emergency.
Documentary makers will follow around 10 different participants from across the world to tell the story of their experience participating in the global assembly and how it changes their lives. Bringing more and more people into the discourse.