The plan
The Global Assembly consists of a five phase plan that will take place in the run-up to COP-26 in November 2021:
1. Now: understanding of the reality of the situation globally
2. Future: prioritise hopes for life in 2040
3. Create Future: agree actions that match the future citizens want
4. Take Action: generate plans for making the desired future happen
5. Launch Plan: a 'moment' when the eyes of the world are on the citizen plans.
The Assembly will be digital by default, but distributed events can take place face-to-face based on organisers' discretion and local Covid-19 regulations and best practice.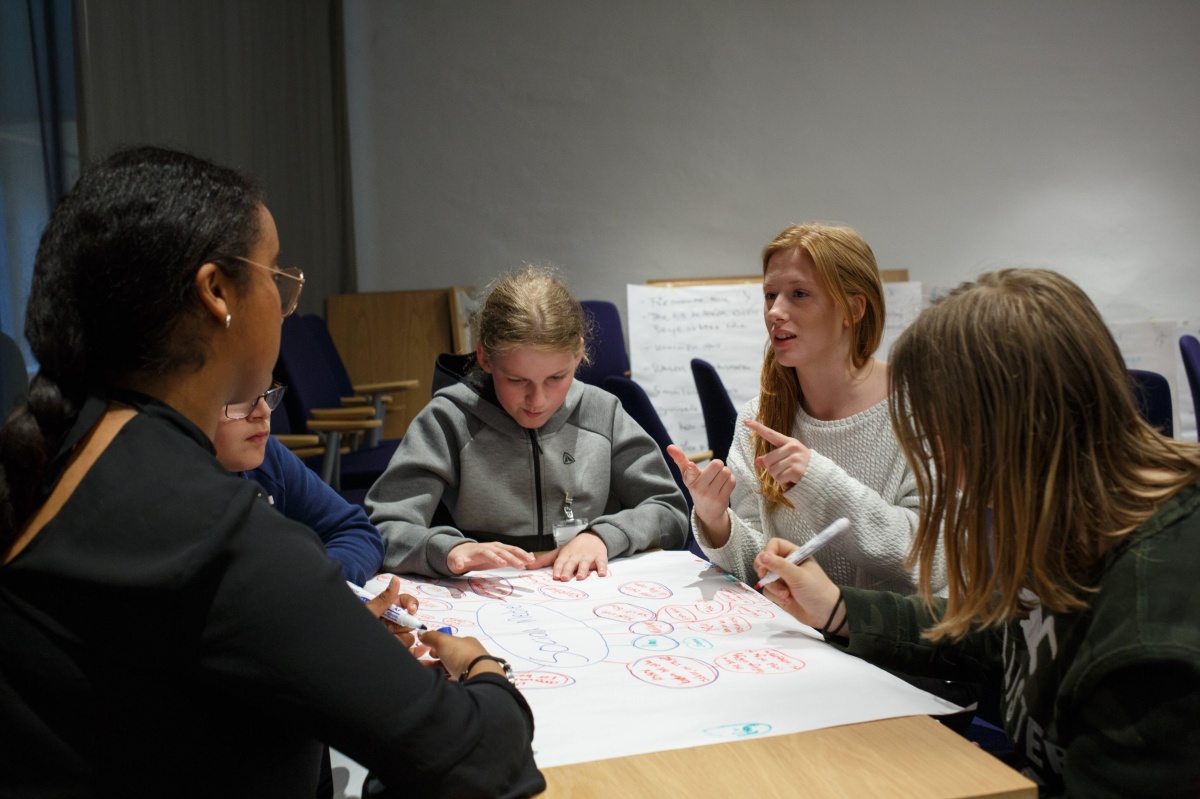 We plan for the Global Assembly to run from March to September 2021:

Building towards Glasgow COP26 in November 2021.
Note: These timings are indicative and will be confirmed when funding is secured.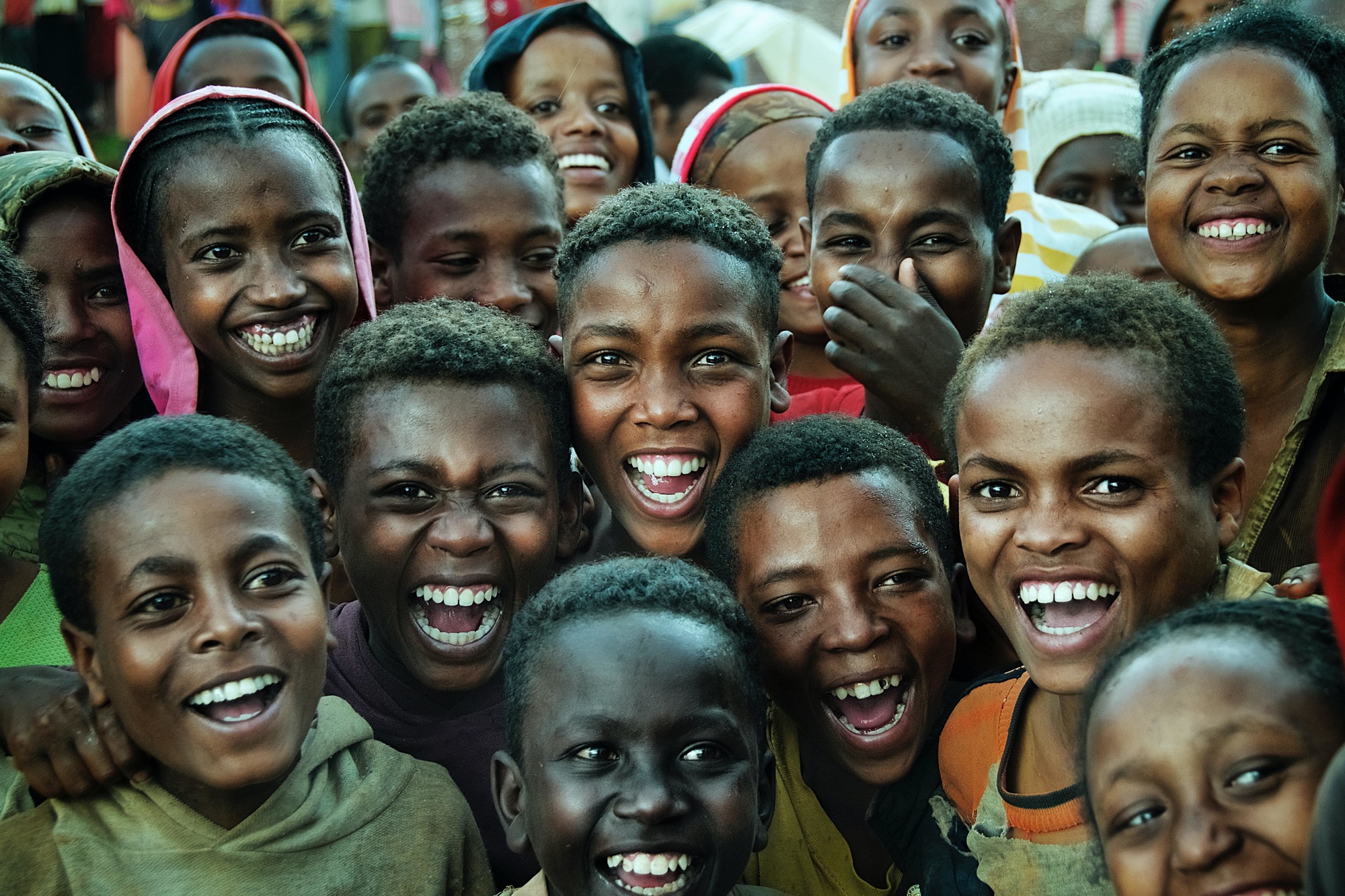 A global action plan will be created made up of a patchwork of plans for different 'places'.
Global Citizens' Assembly on the Climate Emergency to Influence COP26 Process Summary
Creating a detailed global picture of what change people want to see and what they are prepared to do.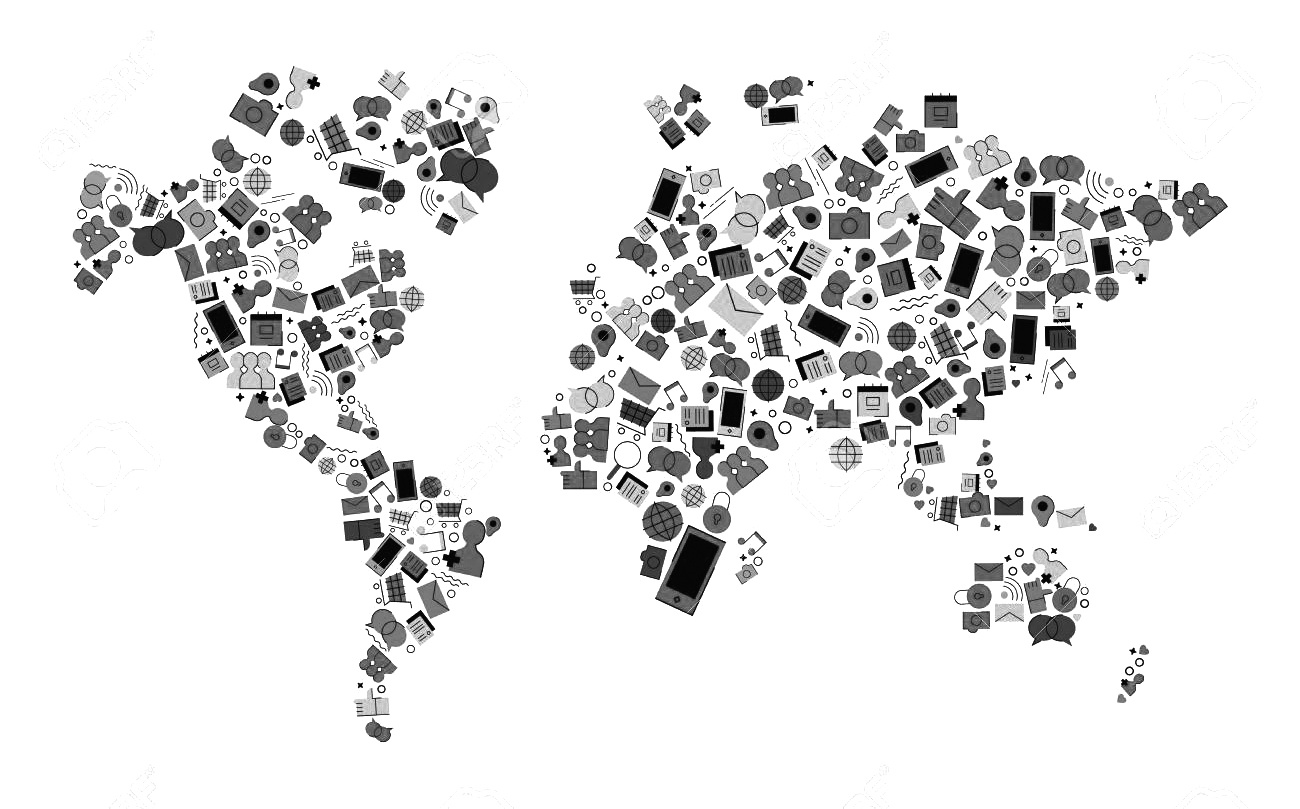 A snapshot of the global population
The mini global public will be made of a thousand people who will reflect the global population as accurately as possible.

The distributed events aim to encourage wide participation with anyone who wants to engage, which means that the participants will be self-selected. In order to understand the makeup of the participants, we will collect socio-demographic and attitudinal data to allow segmentation, analysis and compare and contrast the outputs from the core assembly and the distributed events.

A global mini-public
We will seek to represent the global population as accurately as possible by age, ethnicity, gender, income, education etc... 1000 people will be involved in the core assembly selected by lottery, similar to how juries are selected in many countries, to ensure people are as reflective as possible of the population.
Local Contexts

Local country contexts will determine what is possible in terms of the type of 'lottery' selection. In some cases, it will be done in person (door-to-door and on street recruitment) or over the phone (landline and mobile phone) using existing databases, but some places don't have post-code or phone databases, let alone electoral registers, and mobile phone ownership is only 61% of the world population. We are working with the Sortition Foundation and World Citizens' Assembly to develop a robust methodology to ensure the sample of people selected are as representative of the global population as possible in terms of gender, age, socio-economic background, geography etc.

| | | |
| --- | --- | --- |
| Super Region | % | No. participants |
| China | 16.96% | 170 |
| Africa, central and south | 14.62% | 146 |
| Asia, east | 13.45% | 134 |
| Europe, central north and east | 8.77% | 88 |
| India | 17.54% | 175 |
| English speaking countries | 7.02% | 70 |
| Arabic speaking countries | 11.70% | 117 |
| Spanish and Portuguese speaking countries | 9.94% | 100 |
| Total | | 1000 |
Inclusion
We are giving careful consideration to how we interpret the concept of "the citizen" in a global context. Indeed, the term "citizen" can be exclusionary if we draw a population sample from the boundaries of the nation state. Our methodology is taking the principle of inclusion very seriously, and we will ensure specific groups such as stateless or climate refugees, asylum seekers or migrant workers for instance are included in the sortition selection process.

Our approach to participation and deliberation has five features
Collective intelligence
Distributed deliberation
Systems thinking
Empathic understanding between people
Agency and action.
We define collective intelligence as the ability of a group of people to synthesise the best knowledge evidence into effective action.
We would achieve this through combining four elements:
1. Actions (from each of the five actors: citizens, institutions, cultural figures, media and civil society).
2. New data and insights
3. Shared understanding
4. Best available knowledge, data and wisdom (including cutting edge datasets, forecasting, lived experience and ancient knowledge).
We think of the process of generating collectively intelligent action as the cone below...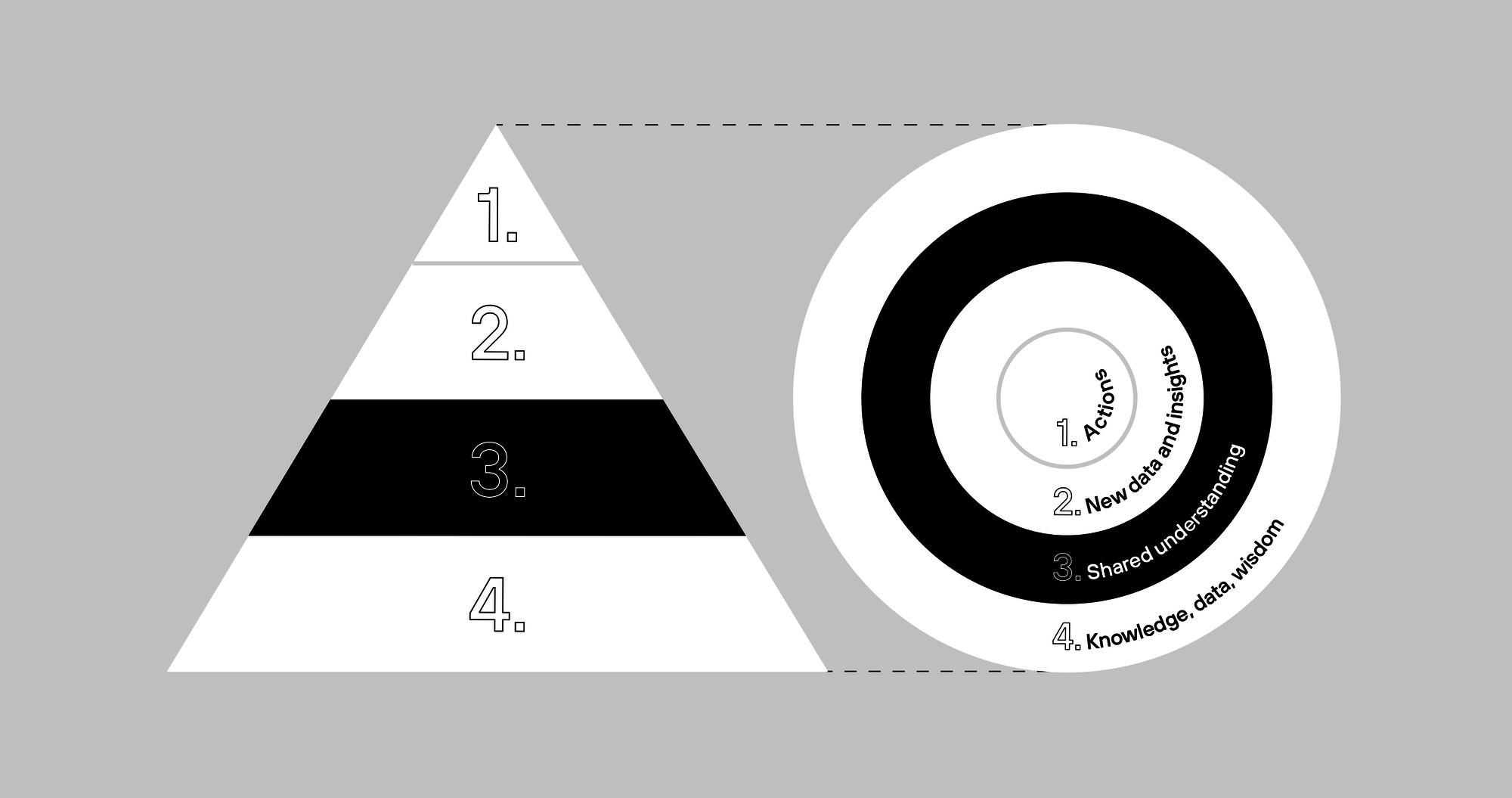 We would support anyone anywhere run their own process which could plug into the overall global assembly.
These would mirror the mini global public process, but there would be a choice for those running the events they could either:
focus on generating 'local' action plans for the town, school, organisation, community where it was being run
follow the global process, or
combine local and global.
The outputs from the distributed events would plug into the global action plan - creating a global picture of local action plans. Galvanising action as well as a huge quantity of intelligence of how people are contributing to global change from their communities.
Systems thinking supports citizens pinpoint the actions that will make the biggest impact.
Taking a systemic perspective is vital for two key reasons.
Firstly it helps participants understand the:
underlying drivers of converging crisis such as covid and climate;
leverage points to generate meaningful responses to the challenge.
Secondly it helps participants make sure the actions proposed are sufficient to address the climate and ecological emergency.

Many participative processes generate incremental as opposed to transformative action plans. This is because the participants are not supported to understand systems thinking and be able to distinguish between incremental and transformative change.
Learning from this we will apply system thinking to assembly design to ensure participants are able to actively assess options for change and understand which are commensurate to the climate and ecological emergency.


Deep understanding between people with differing views creates the conditions for new possibilities to arise.
The diagram below describes three types of social interaction. Level 1 where we exchange opinions, level 2 where we communicate on the basis of our beliefs and values and level 3 where we share our governing sentiments: our real hopes and our real fears.
Our governing sentiments can often be hardest to share because they are the aspects of ourselves we hold most tenderly. But they often reflect our most honest opinions and it's by communicating at that level the closer we are getting to the truth of what people really think.
As long as we're communicating at the level 2 or 1 we're not communicating sufficiently fully; and perhaps most importantly of all people aren't really being heard.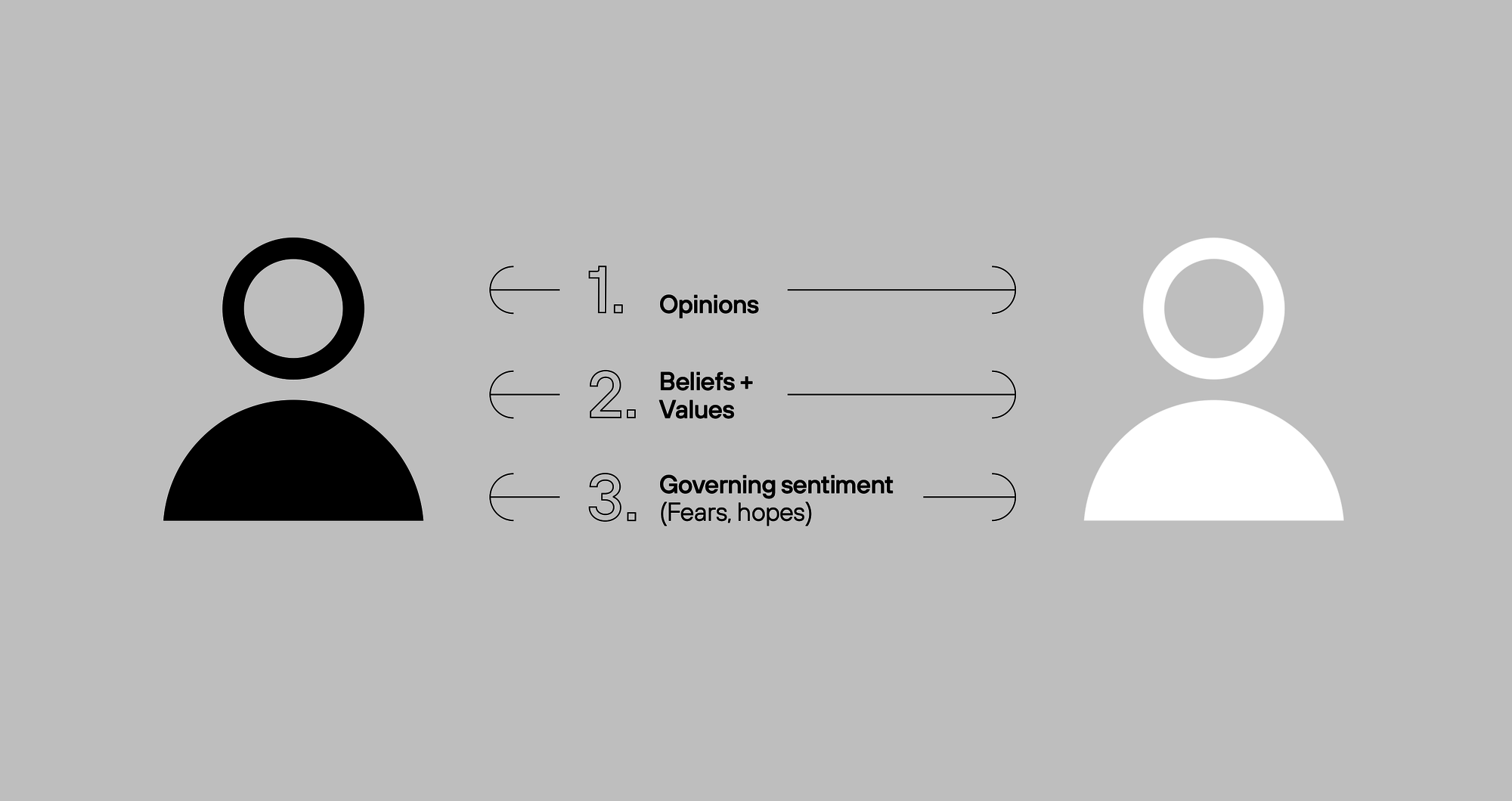 This is not a glorified opinion poll. It's about supporting people, organisations and governments across the world take action.
The purpose of the global assembly is to accelerate action to address the climate and ecological emergency in ways that citizens see fit. The whole process has therefore been designed around this. To build the capability and agency of citizens, organisations and institutions to act. Many of the team have specific skills in terms of generating citizen efficacy and social change; and this has been included in the plan.